I read a little while ago that sleeping in a tent for a few nights can help repair a broken circadian rhythm. As I recently (& begrudgingly) shared, I worked at KFC for almost 2 whole years. I worked the night shift for the majority of my time there. That means that my sleeping schedule has been in shambles ever since I left. It did not really matter while I was working there, but now that I am trying to do new things with my life & figure even newer things out, it really is an issue that I can't fall asleep until around 7 in the morning.
So, I set up my tent in my parents' backyard. I have been sleeping in it for about a week now. I would share a picture, but I have already laid down in my bed to type this post, & I do not really feel like getting up & putting on shoes just to take a picture of a yellow Eureka! tent.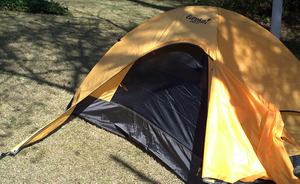 Anyway, I am now realizing I do not really want to type out a proper blog post about my adventures in my backyard. Just know that I am pretty confident that the experiment worked. So, if you are like I once was, & your sleeping schedule is all backwards, just sleep outside for a few days. Honestly, it is probably just the whole waking up in the sun thing that really makes this work, so you might have the same success by just sleeping next to an east-facing window without curtains or blinds.
In other news, I am still looking for apartments. I am also happy to announce that I beat Super Mario Odyssey last night. Nintendo, please send me an eShop gift card for this promo.
I do not know why I made this post.
Here is some music (some old, some new) I have been listening to recently:
Stream Tent Post, a playlist by Connor Hatch from desktop or your mobile device
 What are you listening to?
This article was updated on June 16, 2019